For most, the 2020 UK club cricket season has now come to an abrupt and premature conclusion less than 2 months after it started due to the Covid-19 pandemic. The fact us club cricketers got any game time at all must be seen as a huge bonus given the catastrophic impact the virus has had across professional sport, business, education, healthcare, and much more.
After BOJO's vector of disease comments mid-summer, it really didn't look like we would get any club cricket, but thankfully our 'mercurial' leader gave in eventually and let us play. This was mainly down to former England Skipper Michael Vaughan tweeting him and his comrades in government on a daily basis, thanks for banging the drum Vaughany!
The 8 week season I experienced was predictably the strangest of the 26 I have played club cricket. We're creatures of habit after all aren't we?!
There were some positives:
1.       Earlier start times resulting in earlier finishes
2.       Reduced overs (40 overs per innings in most leagues)
3.       Win/Lose cricket which I think has to be the way forward especially outside of First XI Cricket
4.       Regionalised format in many league to limit travel
5.       Bowling limitations meaning Captain's were forced to use more bowlers than they might usually.
There were some negatives too:
1.       No showers, always an integral part of the day.
2.       No teas – whilst taking your own tea did save time between innings, you can't beat the anticipation of wondering what the quality of the oppositions teas will be like.
3.       Not many club bars open – Sharing a pint with the oppo is another integral part of the day when disagreements are put aside and cricketing stories shared.
4.       Lack of intensity. With no promotion or relegation, we were essentially playing glorified friendlies.
5.       No Overseas Players – It's always a huge part of the season welcoming an overseas player into your club for the summer and this was greatly missed.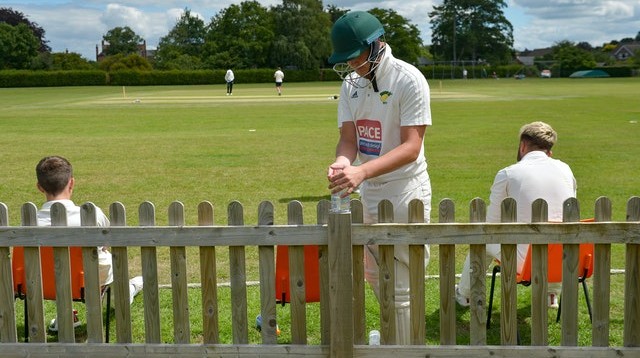 As I mentioned at the start of this blog with everything that's going on with Covid we were very lucky to get some cricket played this summer, but it just wasn't quite like how we remember it. They say football is nothing without fans and similarly club cricket is nothing without teas, showers, bars, and proper competitive games. Let's hope that we can be back to normal come April 2021 and The Covid season will be a socially distanced memory.
Sanitisation break, what's that?!