Travel bans. Hotel quarantine. Testing and isolation. It's been a heated topic of conversation this week. But how does all this impact UK cricket clubs?
We take a look below and aim to simplify how this affects overseas cricketers set to join clubs this summer.
The dreaded 'Red List'.
Travel from these 'red list' destinations is forbidden for anyone except British and Irish citizens plus official UK residents. All other travellers will now be turned away at the border.
This means the new hotel quarantine rules will, in practice, only apply to British and Irish nationals or residents.
The UK's Department for Transport last week said that any travel exemptions that currently exist – such as for business trips – do not apply to these 'red list' countries.
In other words: no travel is allowed whatsoever, for any reason.
Travellers from the following 'red list' countries are banned from the UK:
Angola, Argentina, Bolivia, Botswana, Brazil, Burundi, Cape Verde, Chile, Colombia, Democratic Republic of Congo, Ecuador, Eswatini, French Guiana, Guyana, Lesotho, Malawi, Mauritius, Mozambique, Namibia, Panama, Paraguay, Peru, Portugal (including Madeira and the Azores), Rwanda, Seychelles, South Africa, Suriname, Tanzania, United Arab Emirates (UAE), Uruguay, Venezuela, Zambia, and Zimbabwe.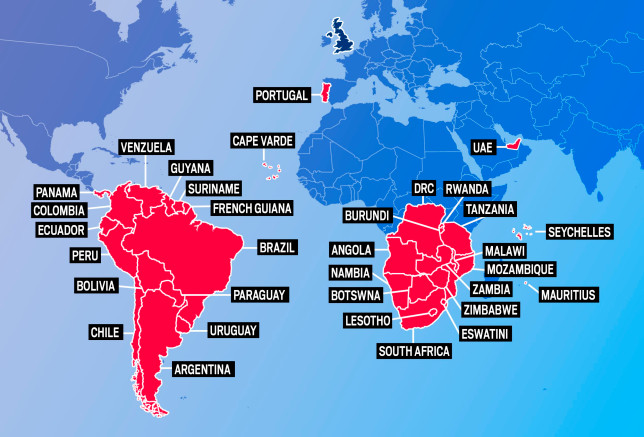 For British and Irish nationals, and official UK residents
UK residents and Irish nationals arriving from the 33 "red list" countries will have to quarantine in government-provided hotels. In England, this will cost £1,750 per head covering food, accommodation, transport, and testing. Accommodation will need to be booked in advance, through an online booking system (going live on 11 February). Arrivals will be escorted to their hotel where they will stay for 10 nights.
For travellers from non 'red list' countries
All incoming passengers have to fill in a passenger locator form before they arrive, listing their contact details, departure country and their UK address. They also have to show proof of a negative Covid-19 test to be allowed entry. It must have been taken in the 72 hours before travelling, with Border Force officials carrying out spot checks.
Travellers must then self-isolate for 10 days.
From 15 February 2021, arrivals in England will also have to take a coronavirus test on days two and eight of quarantine, which they will have to pay for. If they test positive, they must self-isolate for a further 10 days.
There will be a £1,000 fine for any international arrival who fails to take a mandatory coronavirus test. This will be followed by a £2,000 fine for failing to take a second test, with quarantine automatically extended to 14 days. Anyone who lies on their passenger locator form about having been in a country on the red list will face a prison sentence of up to 10 years.
The process simplified for cricketers from non 'red list' countries:
Obtain a negative Covid-19 test within 72-hours of travel to the UK
Book and pay for a travel test package, which will include Covid-19 tests to be taken on or before day 2 and on or after day 8 of your quarantine
Complete a passenger locator form with details of where you will home quarantine when you arrive and the travel test package booking reference number
Self-isolate at your designated address for 10 days
If you test positive, self-isolate for a further 10 days
If tests are negative, self-isolation can end after the 10 days
For more information on what to do before and after you arrive in England, including staying at home and ordering coronavirus (COVID-19) tests click here.
For returning travellers, when might the hotel quarantine rule end?
The government will not give a definite date. One rumour suggests that the government has a prospective end date of 31 March 2021.
Travel considerations
Consideration needs to be given to cricketers travelling to the UK. Anyone who has been in or transited through the UAE in the previous 10 days cannot enter England.
Ordinarily, Dubai and Abu Dhabi are regular transit and stop-over destinations, therefore cricketers need to consider other transit locations.
We have provided various options for non 'red list' countries below:
Australasia – Doha (Qatar), Singapore, Hong Kong, Los Angeles (USA), Tokyo (Japan)
India – Istanbul (Turkey), Zurich (Switzerland), Munich, Frankfurt (Germany), Warsaw (Poland), Amsterdam (Netherlands), Hong Kong
Sri Lanka – Doha (Qatar), Muscat (Oman), and Manama (Bahrain)
Pakistan – Doha (Qatar), Istanbul (Turkey)
West Indies – Atlanta, New York, Miami (USA)
Advice
Whilst we don't claim to be experts with travel, government regulations etc, we are here to help any club or player that needs advice.
We all hope we'll have a relatively "normal" season, with overseas players, and enjoy the game we love.