Following 'red list' revelations, Ashtead has made a swift pro switch by signing talented Sri Lankan batter, Manoj Sarathchandra.
A run-scoring machine…
Sarathchandra is quite simply, a run-scoring machine, who continues to churn out runs aplenty in Sri Lankan domestic cricket.
Last summer (2019/20), the Tamil Union star was one of the leading run-scorers in Sri Lanka's top flight (Tier A) first-class competition hitting 633 runs at 57.54 with centuries against Chilaw Marians (158), Ragama (113), and Nondescripts (163*). He now boasts 10 first-class centuries amongst 4,105 runs at 39.47.
A proven domestic performer
Sarathchandra continues to impress, following two dominant first-class campaigns in 2017/18 (835 runs at 52.18), and 2018/19 (460 runs at 38.33), which has seen him earn Sri Lankan A selection.
The former Sri Lankan Board Under-19's keeper/batter has been a consistent performer in Sri Lanka's Premier Tournament since his debut for Kurunegala Youth, averaging 35.71 (2012/13), 38.60 (2013/14), 35.11 (2014/15), 35.00 (2015/16) and 31.86 (2016/17), 57.18 (2017/18), 38.33 (2018/19), and 57.54 (2019/20), respectively.
Earmarked for big things…
Sarathchandra has long been regarded as a national player in the making. He was earmarked for big things when selected for the Sri Lankan Board Under-19s XI in 2011/12.
A few years on, following his first-class exploits, he was rewarded with Sri Lankan XI inclusion against the touring Australians in July 2016.
In September the same year, he helped Colombo Business Management School (BMS) to Red Bull Campus Cricket glory, beating Bangladeshi's University of Liberal Arts in the final.
Earlier in the tournament, he won Man of the Match in Round 1 against the UAE, and his 33-ball 47 not out was instrumental in BMS' semi-final victory against South Africa, helping chase down 179 in 19 overs, against an attack featuring current Test quick Lungi Ngidi and first-class contingent Thomas Kaber, Vincent Moore, and David Mogotlane.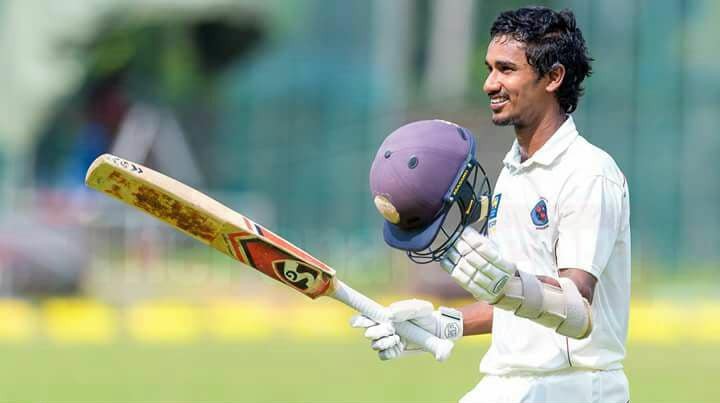 One of Tamil's stars
Sarathchandra enjoyed a strong 2016/17 season for Tamil Union, hitting 478 runs at 31.86, before his run-spree in 2017/18 and a consistent follow-up season in 2018/19.
Since joining Tamil Union in 2013/14, from Kurunegala Youth Cricket Club (8 matches – 500 runs at 35.71), he has played 56 first-class matches for the club and can boast 3,283 runs at 42.08 with 8 centuries.
Ashtead sign the Sri Lankan run machine
The Sri Lankan keeper/bat is a high-class prospect and is now, having completed his studies, set to ply his trade in the UK this summer having recently signed with Surrey Championship club Ashtead.